BC's Leading Foundation Repair & Concrete Lifting Contractor
Serving Greater Vancouver, Surrey, Squamish, Whistler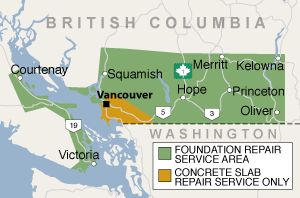 True Level Concrete is British Columbia's expert in foundation repair and concrete restoration, providing practical, economical solutions to residential and commercial property owners. We have the expertise and technology to fix all types of sunken concrete or foundation problems; from sagging floors to a settled foundation, or even a cracked, sunken walkway, we can help!
Since 1998, we have been dedicated to excellence in concrete restoration and structural repairs. We take a "customer first" approach to everything we do, from the quote to project completion.
When we are at home, we want to feel safe. Besides the 'unsettled' feeling of having a sinking foundation, foundation problems also devalue a residence or commercial building. True Level Concrete's warranted and engineered foundation repair products will provide a long-lasting solution to restore broken, settled foundations and concrete slabs.
We Provide Free Estimates for Foundation Repair in BC
Get A FREE Estimate
You have enough to worry about, let our experts handle the rest. True Level Concrete makes the slab and foundation repair process as stress-free as possible. You will never have to move out of the home or business during the repair process. Contact us to request a free quote for foundation repair and concrete lifting in Vancouver, Surrey, North Vancouver, Richmond and areas nearby.
We Provide Solutions for: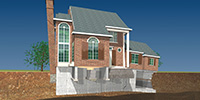 Using long-lasting solutions, we can stabilize your sunken concrete foundation and fix sticking windows, doors, and uneven floors.
We will raise interior concrete floors back to their original level and repair cracks caused by settlement.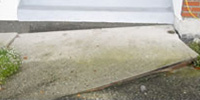 We will re-level your walkway, patio, or driveway to eliminate tripping hazards and standing water issues.
Permanent, Cost-Effective Foundation & Concrete Repairs
Signs of Foundation Problems
Cracks by windows
Windows not opening/closing properly
Off-level floors
Cracks in concrete floors
Doors sticking or misaligned
Cracks in sidewalk or patio
Cracks in brick or poured concrete walls
Chimney pulling away from house
Water pooling on patio and sidewalks
If you have a settled foundation, sinking or sloping interior floors, a walkway or patio slabs that have settled and become tripping hazards for guests or customers, we have the solution.
Small cracks in foundation walls, sidewalks and driveways could just be a sign of normal settling, but cracks that become bigger could be a sign of an underlying structural problem or weakening soil.
True Level Concrete offers a variety of foundation repair solutions, including concrete slab leveling and lifting, wall straightening and stabilizing, and crack repair. We use state-of-the-art products and techniques like slab raising or mudjacking, helical and push pier installation, and more.
No matter how minor or serious the problem, you can save yourself a headache and a lot of money by acting fast. When signs of concrete problems or foundation troubles turn up, it's a good idea to contact a trusted, qualified foundation repair contractor to inspect the problem.
Call us at 1-604-589-4800 or get a free online estimate for foundation repair services in British Columbia, including Richmond, Abbotsford, North Vancouver, Langley, Coquitlam, Kelowna, Saanich and nearby areas throughout BC.
Looking for a price? Get a no cost, no obligation free estimate.