Slab Jacking in Greater Vancouver
Other names for Slab Jacking
Mud jacking
Grout pumping
Pressure grouting
True Level Concrete can put sunken slabs back on the level using traditional slab jacking techniques or the PolyLevel® slab-raising process.
We depend on concrete slabs in many ways –from basic sidewalks and patios to driveways, floors and foundations. So when a slab sinks for any reason, it usually causes a significant problem. The resulting uneven surface, often accompanied by cracks in the concrete, poses serious safety issues.
If you need slab jacking services in North Vancouver, Surrey, Vancouver or the nearby areas, call us today for a free estimate.
The slab jacking alternative: Don't destroy a sunken slab when you can restore it
One way to deal with a sunken slab is simply to demolish the uneven and damaged sections and construct a new slab in its place. The trouble with this repair strategy is that it's expensive and time-consuming. The demolished material must be hauled to a landfill, and the new concrete can't be used for days because it requires time to harden and cure.
Raising a sunken slab using traditional slab jacking techniques or the PolyLevel® slab jacking process is a smart alternative to slab replacement. By restoring a sunken slab to its proper level rather than demolishing and rebuilding the slab, you save time and money. You also avoid the noise and mess of demolition. Slab repair retains the visual continuity of the slab, as opposed to installing fresh concrete that doesn't blend in with the original masonry.
Traditional slab jacking is a fast, economical way to raise and reinforce a sunken slab
Traditional mud jacking is done by pumping liquid mortar under a sunken slab until hydraulic pressure forces the slab back to its proper level (or very close to it). One or more holes are drilled through the sunken section of the slab, to serve as injection ports. These holes are patched with grout when the slab jacking process is finished.
Traditional slab jacking advantages
Improved stability. The grout used to raise the slab provides a strong, stable base for a slab that has been raised by pressure grouting.
Low cost. Traditional slab jacking costs about one third of what you'd pay to replace a sunken slab.
No loss of use. Slab replacement makes the slab unusable until the new concrete has cured –a process that can take as long as 28 days. In contrast, slab jacking allows you to use the slab as soon as it's been raised back to its appropriate level.
Better for the environment. Demolishing a slab means the old concrete will be delivered to the landfill. Slab jacking eliminates this waste delivery.
Quiet. With slab jacking, the noise of breaking up old concrete is eliminated.
Less weather dependent. Slab jacking is a repair that can be performed in just about any weather conditions; you have more flexibility than with slab replacement.
Better for the surrounding landscape. Slab jacking doesn't require heavy equipment like slab replacement does, so your yard is less likely to be damaged.
PolyLevel® slab raising is the high-tech, high-speed prescription for slab depression
Other names for PolyLevel®
Polymer injection
Polyurethane grouting
Polyurethane slab jacking
The PolyLevel® process of slab raising involves injecting expanding polyurethane foam beneath a sunken slab to raise the concrete. PolyLevel® foam is a denser, highly engineered version of the expanding foam sold in cans at home centers and hardware stores. PolyLevel® foam weighs about 4lbs. per cubic foot, so it's much lighter than the mortar used for traditional mud jacking (which weighs about 120lbs. per cubic foot). We recommend PolyLevel® whenever the soil beneath a sunken slab is loose or easily compressed.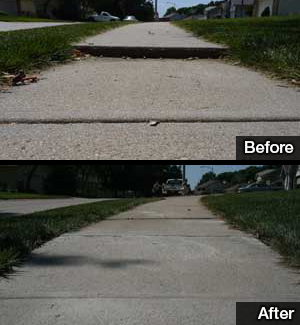 True Level Concrete uses PolyLevel® techniques to lift concrete slabs in British Columbia.
PolyLevel® slab raising will strengthen weak soil while also raising a sunken slab. The expansive power of the foam can actually provide greater lifting power than injected mortar. Another advantage with PolyLevel® is that the foam hardens and cures quickly, enabling the restored slab to be put back into service within 20 minutes or so in most cases. This hi-tech slab-raising technique can be done under a wide range of temperature and weather conditions.
Let the slab repair experts solve your sunken concrete problem. At True Level, we have the experience and equipment to permanently repair sunken concrete using the most cost-effective methods. Our non-destructive concrete repair techniques will save you money and restore safety, appearance and property value. Call today for a free inspection and estimate to repair sunken concrete using mud jacking and PolyLevel® techniques.
True Level Concrete provides slab jacking, concrete lifting, and concrete leveling services in Vancouver, Surrey, Burnaby, Abbotsford, Richmond, Langley, North Vancouver, Kelowna, Saanich, Coquitlam, Burnaby, North Vancouver, West Vancouver, Coquitlam, and surrounding areas. Contact us by phone or e-mail to schedule an appointment to fix your sunken slab today!
Looking for a price? Get a no cost, no obligation free estimate.