About True Level Concrete
True Level Concrete is the expert in concrete restoration service in Surrey, British Columbia serving metro Vancouver and surrounding areas. We provide practical, economical solutions to residential and commercial property needs.
Depending on the geographical area, some homes and commercial buildings have settlement issues. Many of these settlement issues are considered structural and proper repairs are essential for regaining the integrity of the building and avoiding potential liabilities.
True Level Concrete has incorporated the Foundation Supportworks system to assist and supply products to effectively stabilize and lift foundations from the base of the problem to regain the integrity your property was meant to have.
About Us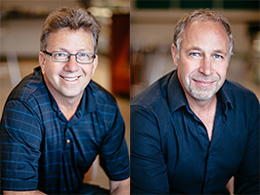 Cal Warkentin (left) and Vic Balzer (right)
True Level Concrete is managed by Cal Warkentin and Vic Balzer. With over 25 years of experienced leadership in the construction industry their focus has been dedicated to excellence in concrete restoration and structural repairs.
With extensive experience including contracting foundations, framing and new home construction, they have created a solid foundation of integrity and expertise for True Level Concrete.
Because of their commitment to quality and customer satisfaction, they only use superior products and engineered systems as part of their repair solutions.
Our Commitment
Our Services
Our goal is 100% customer satisfaction. We are registered with the Better Business Bureau and are fully-insured for liability and WorkSafeBC to the end.
Additionally, we stand behind our work with guarantees on both structural and non-structural work. The warranty depends on the service. On structural repairs, we offer a 10 year warranty against resettlement and a 25-year warranty on Foundation Supportworks products. On non-structural slab lifts, we guarantee the slab will not re-settle more than 1/2" in 3 years (based on the type of soil and age of concrete). Slabs lifted with PolyLevel® are extended to a 5 year guarantee. Feel free to contact us if you any questions about our warranty or services. Exceptions apply to all warranties based on soil conditions and events beyond our control.

Our customer-first attitude starts with your Free Estimate through completion of your project. Our goals are to provide on-the-level service to all our customers. This commitment dictates that we use only superior products and engineered systems in our foundation and concrete restoration procedures.
We are confident we have the best solutions to repair interior and exterior sunken concrete, as well as tilting or sinking homes. Call us at 1-604-757-0765 or contact us online for a Free Estimate.
Looking for a price? Get a no cost, no obligation free estimate.