Consumer Choice Award 2018
True Level Concrete was recently selected by the Consumer Choice Awards as the top slabjacking company in the Vancouver Area! We are extremely excited to be able to share this information with you as we begin the new year. True Level Concrete has a customer first mentality and loves finding solutions to all foundation and concrete problems. It gives us purpose to be able to give each customer the piece of mind that their biggest investment, the home, is properly taken care of. True Level Concrete is the quality choice for lasting home repairs that has been trusted for over 20 years.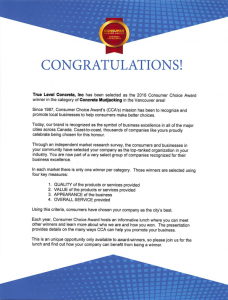 Why was True Level Concrete selected?
The Consumer Choice Award's (CCA's) mission is to recognize and promote local businesses to help the average consumer make better choices.
CCA's performed an independent market research survey, and the consumers and businesses in Vancouver selected True Level Concrete as the top-ranked organization in the concrete lifting industry.
According to the award, True Level was selected for the following 4 reasons over our competition:
Quality of the products and services provided
Value of the products and services provided
Appearance of the business
Overall service provided.
We want to thank all of our customers for awarding us!