Interior Concrete Slab Lifting and Leveling Vancouver
We offer low-cost, fast & permanent results!
Much lower costs than concrete replacement
One-day repair in most cases
Our True Level Concrete Guarantee*
True Level Concrete's used of advanced technology assures protection of your in-floor heating lines during the lifting process
The concrete isn't the problem. The problem is under the slab!
True Level Concrete's slabjacking (also known as mudjacking and concrete lifting) process is an effective, simple and cost-efficient way to ensure that your interior floor will be re-leveled with precision and remain in place without additional cracks or damage.
If your concrete slab is sinking, there's a good possibility that the concrete slab was installed on poorly compacted soil. Other causes for a sinking slab include soil washout and shrinking soil and settlement.
The good news is that cracked, sinking concrete does not necessarily need to be replaced. Using our concrete lifting technique called PolyLevel®, our foundation repair experts can lift your concrete slab back to its original position and prevent cracks from forming.
PolyLevel® offers numerous advantages over traditional mudjacking techniques: there is little or no disruption to landscaping, it can be done in almost any type of weather, and nothing needs to be moved off the slab before it's repaired.
Get a Free Quote to Repair Your Settled Concrete Slab in BC
Get A Free Estimate
Contact the structural experts at True Level Concrete for a Free Estimate for concrete lifting and leveling. Not sure if PolyLevel® is right for your home? Give us a call at 1-604-757-0765 for a free in-home inspection and our specialists will answer any questions you might have about lifting your basement's concrete slab!
PolyLevel® Interior Slab Repair: Before and After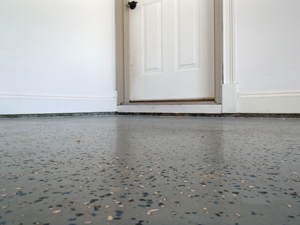 Uneven floors and signs of sinking away from the foundation are signs of concrete slab settlement.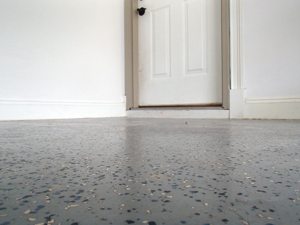 PolyLevel® raised the interior floor slab back to its original position. It now remains leveled and even.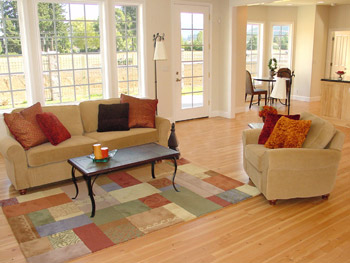 With PolyLevel®, homeowners can lift and level slab floors without disrupting their daily routine or damaging their existing finished flooring.
Symptoms of a sinking slab inside your home
Where inside your basement, crawl space, or attached garage, you may have a sinking concrete slab if you notice:
The floor feels sloped
There is a "hump" or "lip" near the carpet edge or you have cracked floor tiles
Doors have become difficult to open or close
Furniture requires shims to sit level
Visible gaps under walls or up at the ceiling
True Level Concrete's Concrete Leveling Process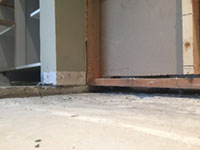 Sunken Concrete Slab
Your interior sunken concrete floor becomes a structural hazard as the studs and cross beams are slowly pulled apart and away from the floor.
---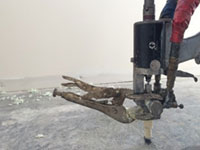 Professional PolyLevel® Injection

True Level Concrete's PolyLevel® polymer injection foam is injected through a series of small holes. The voids beneath the floor slabs are carefully filled. The injection pressure beneath the slab raises the concrete to its original level.
---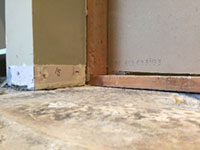 Successful Floor Raising
Your concrete slab is immediately ready for you to use. It's just that easy...and, it's a long-lasting solution!
Avoid Costly Slab Repair Mistakes
Removing and replacing the whole concrete slab – Replacing a concrete slab can be expensive, leave your home dirty and dusty; cause damage to plumbing, walls, cabinetry, and heating pipes; and it can take weeks until the job is complete and your house is back to normal.
PolyLevel® is an affordable, less disruptive alternative to traditional mudjacking methods. Learn more about how PolyLevel® works and how we can repair your concrete for a fraction of the cost of replacement!
Contact the proven experts in concrete slab repair in British Columbia
Call 1-604-757-0765 or request a quote online for our concrete slab repair services in British Columbia. We work throughout Vancouver, including Vancouver, Surrey, Burnaby and many parts of British Columbia to repair your interior and basement floor's cement and concrete issues. In addition to repairing interior concrete slabs, we also offer effective solutions to lift exterior concrete slabs, like walkways, patios, concrete steps and more!.
Sunken slabs with in-floor heating systems are our specialty! Our imaging technology allows us to fix your problem...not create one.
Looking for a price? Get a no cost, no obligation free estimate.