Exterior Concrete Lifting Services Throughout Metro Vancouver
True Level Concrete's exclusive lifting process is a safe way to ensure that the concrete will be aligned with precision and will remain in place without additional cracks or damage. Walkways, patios, driveways, or concrete steps that are cracked and settled can pose a safety hazard and make your property unsightly.
We use PolyLevel® to repair cracked, sunken slabs. PolyLevel® is a state-of-the-art alternative to the traditional mudjacking technique. Your concrete slab will not only look better and last longer, but PolyLevel® is also less destructive to the surface.
True Level Concrete uses a simple concrete lifting process to provide you with a safe, secure and level concrete slab.
Contact the experts at True Level Concrete to meet with one of our experts who will inspect your concrete slab and provide a Free Estimate to have your sunken concrete slab in Vancouver, Surrey, Burnaby or nearby repaired with PolyLevel®.
---
Our Concrete Lifting is a Fast, Affordable Alternative to Replacement
Removing and replacing the whole concrete slab is costly, disruptive, messy, and time consuming. Concrete replacement is also inconvenient, since it's recommended that you don't drive/walk/park on the new concrete for about 28 days.
With our PolyLevel® concrete lifting method, you will be able to put weight on the slab right away, and you won't have to worry about a mess in your yard. PolyLevel® is also much more affordable than replacing the entire slab.
PolyLevel® has an ideal viscosity for filling in all gaps under the slab, unlike ready-mix concrete and it's not an organic soil mixture, so it will not decompose over time. It's guaranteed* to last!
We Can Permanently Repair Your Sinking Sidewalk or Driveway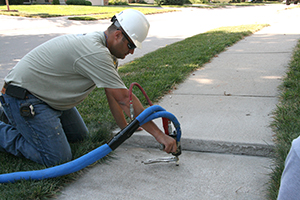 Call True Level Concrete at 1-604-757-0765 or get an online quote to repair your outdoor concrete slab in Lower Mainland & Vancouver Island. We work in and around Vancouver, Surrey, Burnaby and nearby areas throughout British Columbia. Contact us today to learn more about PolyLevel® and our other exterior foundation repair and concrete lifting solutions.
Looking for a price? Get a no cost, no obligation free estimate.